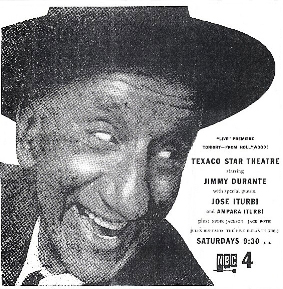 Jimmy Durante and Donald O'Connor
starred on Texaco Star Theater
on alternate weeks
during the 1954-55 season.


In 1954, fresh from successful runs hosting The Colgate Comedy Hour, Jimmy Durante and Donald O'Connor moved over to Saturday nights to alternate on Texaco Star Theater, a program that in previous seasons had been headlined by Milton Berle. On the face of it, juxtaposing these two entertainers seemed like a study in contrasts. Durante was the elder statesman of show business, with roots going all the way back to vaudeville. O'Connor, buoyed by hit movies like Singin' in the Rain and Call Me Madam (not to mention the "Francis" films), was the fresh young face bursting with talent. But on closer inspection, the differences between the two weren't so stark. A professional entertainer since the age of 13 months, O'Connor was already a seasoned veteran. And much of his act drew on the same kind of vaudeville schtick as Durante's.
In their new show, both stars carried over elements from the Comedy Hour. For O'Connor, it was the segments with Sid Miller, in which the two played a struggling songwriting team that, in the course of the show, ended up singing, dancing, and doing comedy. Joyce Smight was seen as their secretary Doreen.
As on The Comedy Hour, Durante set his show at the Club Durant, a real nightclub founded in 1924 and co-owned by Durante. The setting gave him a chance to develop a story, as well as perform his regular act. Known as "The Shnozzola" because of his large nose, Durante had a gruff voice, heavily accented in Brooklyn-ese. Faultlessly loyal to his old vaudeville buddies, the Schnozz featured Eddie Jackson (of Clayton, Jackson, and Durante), pianist Jules Buffano, drummer Jack Roth, and bandleader Roy Bargy in almost every episode. Each show ended in the dressing room with Durante putting on his hat and coat as he sang "goodnight, goodnight, goodnight." Then he'd tell the audience about the next show and close with, "Good night, Mrs. Calabash, wherever you are." As the credits rolled, he'd walk through a series of spotlights.
Like The Colgate Comedy Hour, Texaco Star Theater was pre-empted every fourth week by a special (called a "spectacular" in those days). O'Connor's episodes were mostly, if not all, filmed, while Durante's were a combination of live and on film. The two stars alternated throughout the 1954-55 season, but in the fall of 1955, O'Connor left and Durante took over the time slot, lasting one more season. In the summer of 1957, selected episodes of Durante's show were rerun on CBS, sponsored by Old Gold cigarettes.


Good Night, Mrs. Calabash
On his various radio and TV shows, Jimmy Durante would always close with, "Good night, Mrs. Calabash, wherever you are." Despite repeated inquiries, Durante declined to reveal the identity of this mysterious person. Some speculated that she was an old flame; others believed he simply made up the name. Residents of Calabash, North Carolina believe she was a local restauranteur befriended by Durante in 1940. The book Hollywood Trivia (Greenwich House, 1984) by David P. Strauss makes the claim that the lady in question was Durante's first wife Jeanne and that Calabash was the name of a Chicago suburb she liked. But a search on mapquest.com reveals no such place. Comedian Sonny King, who worked with Durante, confirmed that Mrs. Calabash was indeed Jeanne but that that was just her quirky way of saying "Calabasas, California." With the entertainer himself long gone, the truth will probably never be known.