The Honeymooners
Rare Episodes of the 1950s

By Jim Davidson
Posted 4/2005
Updated 10/7/2014
2014 Update: When MPI first released the Honeymooners lost episodes on home video back in the 1980s and 1990s, the results were haphazard and confusing, with a number of mistakes. Fans knew that many episodes were still missing, but had no idea whether they still might exist somewhere. To clear up some of the confusion, I provided the information below, outlining what had been released, what hadn't been released, and what some of the mistakes were. More recently, MPI hired two people – Robert S. Bader and Jim Pierson – who not only know the episodes but also care about giving them the respect they deserve. Now, with the release of The Honeymooners: The Lost Episodes, 1951-1957, we finally have a complete set of all the extant lost episodes of the 1950s, and I highly recommend it. One of the best features of the set is that it also accounts for all the episodes that are still lost, including them in their proper chronological sequence in the list in the accompanying booklet. Combined with CBS-Paramount's The Honeymooners: The Classic 39, this new set now makes it possible to watch nearly every Honeymooners episode Jackie Gleason starred in during his peak period. What that means, though, is that just about everything I wrote below is now pretty much moot. I've decided to leave it up, though, because it may be instructive to see what some of the pain points were for fans who were trying to piece together all of this information. And my Honeymooners Episode List may still be useful for those who want to know the history of the various releases. - JD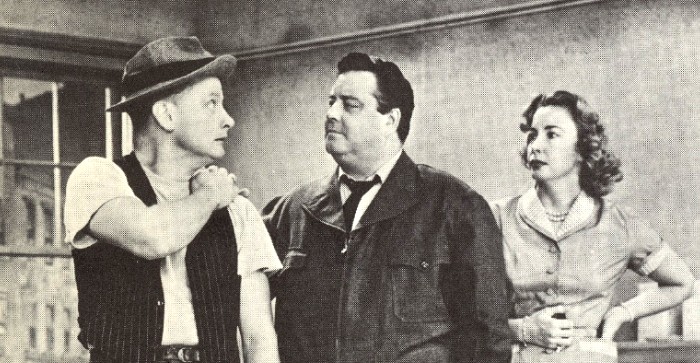 As most fans know, there were 39 filmed episodes (known as "the Classic 39") of The Honeymooners produced during the 1955-56 season, as well as dozens of "lost episodes" that aired live as part of the Cavalcade of Stars and Jackie Gleason Show variety series.  For years, only the Classic 39 were shown in syndication until, in the mid-1980s, it was announced that the "lost" episodes had been discovered in Jackie Gleason's air-conditioned vault and would now be released in syndication and on home video.  Because they originally aired live and were part of another TV show, these lost episodes are difficult to track (not to mention the fact that few people in the 1950s thought to keep a record of a medium that most considered ephemeral).
The book The Honeymooners Lost Episodes by Donna McCrohan and Peter Crescenti (Workman Publishing, 1986) did a thorough job of listing the episodes, as well as giving a detailed synopsis of each one.  Since then, a number of additional episodes have come to light.  Most were listed in To The Moon! by John Katsigeorgis (Metro Books, 2002), but there are still questions about some of them. I've taken a stab at listing every episode I'm aware of in my Honeymooners Episode List of the 1950s. Below are descriptions of the rarest ones. If you have any additional information, please don't hesitate to drop me a line.
---
The Honeymooners : The Really Lost Debut Episodes (1993)
This Disney Channel special was hosted by Paul Reiser (Mad About You) and featured six episodes of The Honeymooners from Jackie Gleason's Cavalcade of Stars variety show that aired 1951-52.  This was significant, because these earliest of all Honeymooners sketches were previously considered lost forever.  During this period, the part of Alice was played by Pert Kelton, and fans will find it interesting to compare her portrayal to that of Audrey Meadows. Episode titles and airdates come from the Katsigeorgis book.
Bread (10/5/1951) 6:18

Alice is cooking when Ralph comes home, and she tells him to go down to Krauss's for some bread.  Ralph doesn't want to and starts an argument, with the neighbors joining in.  Ralph and Alice start throwing things out the window, including a can of flour.  A policeman shows up, covered with flour, and scolds the couple.  Ralph apologizes to Alice and suggests that they go out for pizza.  They embrace.

This was the very first Honeymooners sketch.  Art Carney plays the policeman.

New Television Set (11/2/1951) 8:24

Ralph comes home and notices a TV set on the dresser.  Alice explains that she's obtained it on trial, with no obligation to buy.  Ralph is skeptical that they'll get anything for free.  A deliveryman brings some food for the guests that Alice has invited to watch to TV – Ed and Trixie Norton.  Ed and Trixie start arguing and leave.  The man from the TV company comes to pick up the set and tells Ralph how much Alice enjoyed watching it when he installed it.  Ralph has second thoughts and decides to sign the paper to purchase the set.  Alice is grateful, and they sit down to watch TV.

This was the first appearance of Ed and Trixie Norton, with Trixie played by Elaine Stritch.  It's already established that Ed works in the sewer, and he doesn't wear a hat.  According to Paul Reiser, this episode aired "several weeks" after the first one.

Ring Salesman (12/7/1951) 8:43

Alice tells Trixie that she plans to buy Ralph a ring for Christmas and that "Joe" is coming over to show her a selection of them.  Ralph comes home and finds a note from Joe telling Alice that he'll come by this evening when Ralph is out bowling.  Ralph jumps to the conclusion that Alice is having an affair.  He confronts Alice, and when she's unable to explain, chews her out.  Joe shows up, and Ralph threatens to slug him.  Alice explains that Joe is a jeweler and that he's there to help her pick out a ring for Ralph.  An embarrassed Joe leaves.  Ralph apologizes, and Alice forgives him.  They embrace.

This was Joyce Randolph's first appearance as Trixie.  This storyline was incorporated into This Is Your Life (1/16/1954).

Razor Blades (10/12/1951) 5:02

Ralph has his face lathered up and ready for a shave but can't find his razor blades.  He accuses Alice of having taken them, but she doesn't know what happened to them.  A nasty argument ensues and Ralph starts pulling things out of Alice's dresser drawer.  When he realizes he's about to rip her wedding dress, he stops and apologizes.  Alice forgives him and they embrace.

This is the shortest of all Honeymooners sketches.  Ralph and Alice live on the third floor.

Ralph Threatens to Leave (11/16/1951) 6:24

Ralph doesn't like the "vegetable meat loaf" Alice has prepared for his dinner and starts an argument.  When Alice insults his occupation, Ralph threatens to move out.  As he packs his things, Ralph accuses Alice of flirting with the waiter the last time they went out to dinner.  Reluctantly, Ralph walks out the door, and Alice begins to cry.  But Ralph isn't gone long.  He comes right back and reminds Alice that he can't leave because he has a Knights of Columbus meeting the next day.  Alice laughs and tells him they'll never break up because they love each other too much.  Ralph apologizes and they embrace.

The Kramdens have a TV set and have been married twelve years.

Quiz Show (12/14/1951) 12:09

Ralph and Alice come home with a year's supply of Krinkly Krax cereal that they've won as a consolation prize on a radio quiz show.  Ralph blames Alice for giving the incorrect answer that prevented them from winning the jackpot prize.  The Nortons come over and commiserate with them.  Ralph is surprised when the quiz show emcee and his sponsor show up.  It turns out that Alice's answer was correct, and it's now Ralph's turn to answer a question for the jackpot prize.  Predictably, Ralph gets it wrong, and it's now his fault that they didn't win.

According to Paul Reiser, this episode aired "toward the end of Jackie's year on Cavalcade."  The airdate given in the Katsigeorgis book isn't really very close to the end of the season, so there's an apparent discrepancy there. A remake of this episode aired October 18, 1952 on CBS, with Audrey Meadows playing Alice.
---
The Honeymooners' First Christmas (1993)
This Disney Channel special, hosted by Paul Reiser, features the first Honeymooners Christmas episode.
| | |
| --- | --- |
| | |
Christmas Party (12/21/1951) 36:49

On Christmas Eve, Ralph comes home with potato salad, but Alice is unhappy because it's from Devito's instead of Krauss's.  She sends him back out to get the potato salad from the right store.  While he's gone, Trixie and Ed come over, and a parade of visitors entertain them and Alice.  When Ralph finally shows up an hour after he left, a policeman is with him.  Having been arrested for prowling around Krauss's, Ralph asks Alice to vouch for him.  Satisfied that everything is okay, the policeman leaves.  Ralph is initially furious, but when Alice starts laughing, he sees the humor in the situation and joins her.

This episode, the first long form Honeymooners story, uses essentially the same script as Honeymooners Christmas Party, the show that aired two years later on December 19, 1953.  When the lost episodes were released in the mid-1980s, much was made of the fact that Gleason used this opportunity to bring in the other characters he had developed on his variety show.  Fenwick Babbitt, Joe the Bartender, the Poor Soul, Rudy the Repairman, and Reggie Van Gleason III each take a turn visiting the Kramden residence.  At the time, few people knew that all of these characters had met the Honeymooners two years before. (Still another Christmas episode aired in 1952 but has never been released.)

But though the lines are the same, the personnel are a bit different.  In the 1951 version, Pert Kelton plays Alice, of course, rather than Audrey Meadows.  But, in place of Frances Langford is socialite/entertainer Jane Pickens (who doesn't sing), and Mexican juggler Rudy Cardenas performs in Eddie Hodges' spot.  The jazz band that accompanies Reggie Van Gleason III is different, and instead of the six girl dancers seen in the 1953 version, the 1951 show has three girls and two boys.  Frank Marth plays the policeman in both.

The 1951 show is sloppier than the later one, with Ralph and Alice blowing some of their lines (and thereby ruining the joke) and Norton responding to a knock on the door before it sounds.  At the end of the 1951 version, Ralph observes that it's his and Alice's thirteenth Christmas together.  In the 1953 one, he says it's their fourteenth.
---
Halloween Party (10/30/1954)
This storyline first aired on October 31, 1953 and is included in The Honeymooners Lost Episodes Boxed Set Collection 3.  But according to the McCrohan/Crescenti book, there's another version from the following year.  This latter one has been issued only on VHS. According to Honeymooners fan Chris Rose, MPI plans to include it on its upcoming DVD release of the Lost Episodes in 2005-2006.
---
Manager of the Baseball Team (6/1/1957)
| | |
| --- | --- |
| | |
| 1953 Version | 1957 Version |
There are two versions of this episode – one that aired May 9, 1953 and this 1957 one, which also happens to be the very last Honeymooners of the 1950s.  Despite what the insert booklet says, MPI's Lost Episodes Box Set Collection 3 contains the 1953 version, not the 1957 one.  Apparently, MPI did the same thing with the VHS edition.  As a customer review on Amazon.com observes, "For the *second time* MPI Home Video has listed the June 1, 1957 Honeymooners sketch and delivered the earlier version from 1953."  So, it would seem that the 1957 version of Manager of the Baseball Team has never been issued on home video.  Since the version released in syndication is also from 1953, obtaining a copy of the 1957 version is extremely difficult.  To my knowledge, the later Manager of the Baseball Team has only surfaced once – as part of the 1985 special The Honeymooners Anniversary Celebration – and the first couple of minutes appear to have been clipped off.
---
What's Her Name? (3/21/1953) / What's the Name? (5/15/1954)
These two episodes have essentially the same script (except the latter includes a song sung by Ralph and Alice called "One of These Days, Pow"). The 1953 version has been issued by MPI, but just as they did with Manager of the Baseball Team, they screwed up on releasing the 1954 version. Though Volume 24 (Box Set 6) purports to contain What's the Name?, it actually has What's Her Name?. Fortunately, the 1954 episode is part of Viacom's syndication package.
---
Trip to Europe (1957)
In 1957, the Honeymooners took a trip to Europe for a series of musical episodes, each one taking place in a different country.  Songs were by Lyn Duddy and Jerry Bresler. Chronologically, these episodes fall between My Fair Landlord (1/19/1957) and Manager of the Baseball Team (6/1/1957).  Because they were remade in color in 1966, the 1957 Trip to Europe musicals have not been released either in syndication or on home video.
The only exceptions I'm aware of are in the three Best of Gleason specials from 1988 and 1989. In the first special, Ralph and Ed are seen drinking and enjoying themselves as they drift along in a lifeboat. This excerpt was apparently from the Away We Go episode. The Best of Gleason II featured a clip from the Spanish episode, in which Ralph is blackmailed by a woman who threatens to tell Alice that she's been having an affair with Ralph. An abbreviated version of the Italian episode was included in The Best of Gleason III, with Ralph feeling that Alice is spending entirely too much time with a local man who gives her flowers and candy - until he learns that her "suitor" is a young boy (played by Sandy Renda).
Titles (from the Katsigeorgis book), airdates, and settings of the Trip to Europe episodes are:
Away We Go (2/2/1957) - Brooklyn

Plastered in Paris (2/9/1957) - Paris

Behind the Iron Curtain (2/16/1957) - Germany

When in Rome (2/23/1957) - Italy

Curse of the Kramdens (3/2/1957) - Ireland

Mad Dogs and Englishmen (3/9/1957) - England

Framed in Spain (4/6/1957) - Spain

I Remember Mau Au (4/13/1957) - Africa
Note: There were no Honeymooners episodes on 3/16, 3/23, or 3/30, because Jackie Gleason was on vacation and had guest hosts filling in.
---
Not Really Lost
The following episodes are listed as lost by the McCrohan-Crescenti book but have since surfaced and been issued by MPI:
The Lost Baby (10/11/1952) Also seen in the The Honeymooners Anniversary Special (11/12/1990)

Quiz Show (10/18/1952) Also seen in the The Honeymooners Anniversary Special (11/12/1990)
The following episodes aren't listed in the McCrohan-Crescenti book but have been included in Honeymooners TV specials:
The New Bowling Ball (9/20/1952) This very first CBS episode was seen as part of The Best of Gleason II (1988)

Six Months to Live (12/13/1952) Part of The Best of Gleason III (1989)

Bus Accident (9/19/1953) Part of The Best of Gleason I (1988)

Love Letter (10/16/1954) Shown on TV Land (10/16/2004)
---
Really Lost
The following episodes are apparently really and truly "lost," with no known copies in existence:
The Turkey (9/27/1952)

Masquerade (a.k.a. Question Mark) (10/25/1952)

Missing Pants (12/6/1952)

Christmas Party (12/20/1952)

Easter Hats (4/4/1953)

Alice's Birthday (5/16/1953)

Dorsey Brothers Show (5/23/1953)

Fortune Teller (4/3/1954)

The following remakes of earlier episodes are also apparently lost, never having been issued in any form:
Santa and the Bookies (12/18/1954) Original version aired 12/12/1953

Letter to the Boss (5/21/1955) Original version aired 11/14/1953

Stand In For Murder (6/4/1955) Original version aired 4/17/1954

Six Months to Live (5/11/1957) Original version aired 12/13/1952
---

Copyright 2005, 2014 by Jim Davidson. All Rights Reserved.