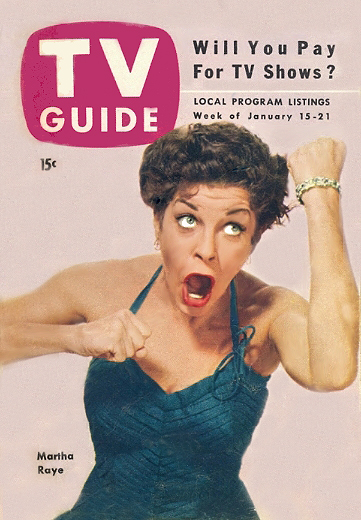 Image restoration by Win Norf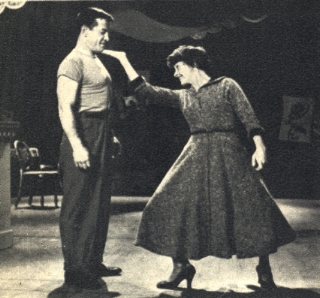 Former middleweight champion
Rocky Graziano played Martha's boyfriend.
Colonel Maggie
Despite her many personal problems, there was at least one aspect of Martha Raye's life in which she found fulfillment. Though a strong supporter of U.S. troops as far back as World War II and Korea, it was during the Vietnam War that she really distinguished herself. While most entertainers confined themselves to USO tours of military bases far from any hostilities, Raye went above and beyond the call of duty, preferring to travel to remote outposts where soldiers were in constant danger of attack.
As author Jean Maddern Pitrone relates in her biography of Raye, "In October 1966, she was performing in the steaming Mekong Delta when the Vietcong suddenly attacked. As caualties were hauled into the dispensary at Soc Trang, Maggie began working alongside doctors and nurses - helping to carry litters, cleaning wounds, changing bandages, and comforting the wounded. She refused to stop and rest for what turned out to be a seventeen-hour stretch during which the overworked hospital staff struggled to keep up with the needs of battle casualties."
Back in the States, Raye opened her home to any veterans who wanted to visit. Her loyalty to the troops was reciprocated, and they affectionately referred to her as "Colonel Maggie." (Raye was known as Maggie by her friends.)
Raye's service was rewarded when President Johnson named her an honorary Lieutenant Colonel in the United States Army Special Forces (Green Berets), and she was the first civilian allowed to wear one of their berets. "She was probably also the first woman," notes Pitrone, "to be given so many other honorary military titles: honorary colonel in the Marine Corps, gunner's mate first class in the 101st Airborne, master sergeant of the infantry, and an honorary U.S. army nurse." To top it all off, in 1993, President Clinton awarded Raye the Presidential Medal of Freedom.
Nicknamed "The Mouth" because of her most prominent feature, Martha Raye was one of the greats of TV comedy. "Her routines," explained TV Guide, "are boisterous, rowdy affairs, full of slapstick, wild plot lines and fantastic mugging - with appropriate crossed eyes, crooked arm and other contortionist business. But she's one of only a handful of clowns who can pull it off." Variety dubbed Raye "the funniest femme in television," which is saying something, considering that the competition consisted of such colorful comediennes as Lucille Ball, Eve Arden, Gracie Allen, and Joan Davis. If she's not as well remembered today as those other stars, it can be largely attributed to the fact that her shows aired live and were never seen again, whereas I Love Lucy, Our Miss Brooks, The Burns and Allen Show, and I Married Joan were rerun endlessly in the years following their network runs.
Raye had had a long career in vaudeville, on Broadway, and in Hollywood, before moving into television as one of the rotating hosts of All Star Revue in 1951. When that show moved from weekly to once every fourth week in the fall of 1953, Raye became almost the only host and took over the program entirely when it was renamed The Martha Raye Show in January 1954.
Teamed with ace writer-director Nat Hiken (who had worked for Fred Allen and Milton Berle on radio and Jack Carson on TV), Raye proved to be a potent ratings-getter, not to mention darling of the critics. Employing the book show format from his Carson days, Hiken managed to temper Raye's manic clowning, emphasizing the softer, more endearing side of her persona.
He also came up with the idea of casting ex-boxer Rocky Graziano as Martha's boyfriend. Nicknamed "Goombah" by Raye, Graziano was the perfect foil for the funny female's mugging. "Who ever thought I could do comedy?" the fighter wondered. Though typically gentle as a lamb, Rocky acted as Martha's protector and stood ready to pummel anyone (like the debonair and oft-recurring Cesar Romero) he thought was trying to make time with her.
Most shows opened with a song and dance number performed by Martha and the Herb Ross Dancers. (Choreographer Ross, known later as "Herbert," would be responsible for such films as The Sunshine Boys, The Turning Point, and Steel Magnolias.)
All was well on the show for a while. But according to Hiken biographer David Everitt, when Raye began to exhibit signs of jealousy over who deserved credit for the show's success and disagreed about the show's content, Hiken concluded it was time to move on. Taking co-writer Billy Friedberg with him, the writer-director left after the 1953-54 season, going on to create such TV staples as The Phil Silvers Show (more popularly known as Sgt. Bilko) and Car 54, Where Are You?
Replacing Hiken and Friedberg were the ex-Colgate Comedy Hour team of Ed Simmons and Norman Lear. (The latter, it may be remembered, was the brains behind All in the Family, Sanford and Son, Maude, Good Times, and The Jeffersons). Simmons and Lear retained Hiken's book musical format and Raye characterization, and the show continued for another two seasons.
But Lear experienced some of the same problems Hiken had. In one scene during the October 11, 1955 show, Martha was supposed to be tipsy. Lear knew a subtle approach would go over well with the TV audience at home. But just before the show, a friend of Raye's convinced her that it would be more fun if she were dead drunk. She exaggerated her movements, letting gin dribble out of her mouth, pouring it down her dress and under her arms, and even spitting it in guest star Douglas Fairbanks's face. The studio audience howled with laughter, but Jack Gould of The New York Times thought it was in poor taste. To Lear, Raye's overplaying of the scene demonstrated one of the key factors that led to a ratings decline. "A live audience will always howl over things like that," he said in an interview. "At home, when you're not part of the fun, you're not part of the 'in' group, it looks like something else."
Lear also cited another incident that, sadly, hurt the show. 12-year-old $64,000 Question winner Gloria Lockerman was a guest, along with Tallulah Bankhead, on the September 20, 1955 episode. "At the bows, when they were saying goodnight," related Lear, "Talullah Bankhead picked Gloria Lochman [sic] up and hugged her and Martha joined them, and the three of them were hugging, and they both kissed her. This was 1954. There were so many letters about hugging that little black child that the show never recovered from it, with the ad agency carrying on the way it did."
Whatever the reason, the show was cancelled at the end of the 1955-56 season, and Martha Raye's five-year career as a TV host passed into history.

A Life of Personal Disaster
A lovable clown in front of an audience, Martha Raye was far from sanguine off stage. "She was one of the world's four best comediennes," Milton Berle once said, "but she lived a life of personal disaster."
A professional entertainer from the age of three, Raye never received a formal education and was so illiterate that she had to have her scripts read to her. Insecure about her intellectual abilities and suffering from low self esteem, she sought validation in the applause of her fans. But she also tended to drink too much, argue with loved ones, neglect her daughter, and jump from man to man. (Of her seven marriages, six ended in divorce.)
On August 14, 1956, distraught over the cancellation of her TV show, the breakup of her fifth marriage, and the filing of an alienation-of-affection suit against her by the pregnant, 20-year-old wife of her lover, Raye attempted suicide by overdosing on sleeping pills. She made a full recovery and soon went back to work. But in late September, in the middle of a performance, she collapsed on stage. When a doctor found nothing wrong with her, her daughter and ex-husband/manager began to wonder if she was simply desperate for attention.
Raye never really found the secret to happiness. At one point, she was quoted as saying, "Few people actually know me or take me seriously. I thought success in show business was the answer to everything. It isn't. I don't know what is."