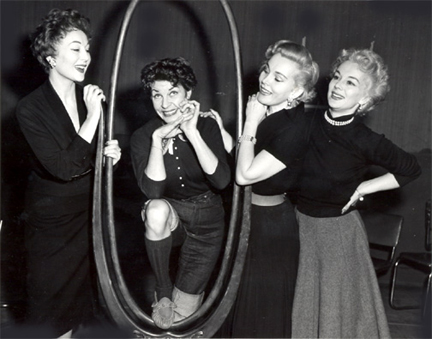 Martha Raye plays host to the Gabor sisters
on her October 31, 1953 telecast.
At the end of the 1952-1953 season, it looked as though All Star Revue had finished its run. But when NBC's Saturday night comedy extravaganza Your Shows of Shows decided to switch to a three-out-of-four weeks format, the network needed something to plug into the fourth week. All Star Revue got the nod and found itself back in business.
Because Show of Shows was ninety minutes long, an extra half hour had to be tacked onto Revue to fill out the time slot. The plan was to retain the rotating hosts arrangement, with Hoagy Carmichael, Sonja Henie, Ethel Merman, Martha Raye, and Noel Coward mentioned at various times as possible hosts. But when Raye led off the season and scored big in the ratings, NBC decided to keep her coming back. The critics liked her as well, with writer-director Nat Hiken singled out as one of the major factors in the comedienne's success.
By the start of 1954, after all but one of the episodes had been hosted by Raye, it was decided to change the name to The Martha Raye Show. This time, All Star Revue was gone for good.
---
Executive Producer: Hal Janis
Producer: Karl Hoffenberg
Director: Nat Hiken
Writers: Nat Hiken, Billy Friedberg
Choreography: Herb Ross
Saturday, 9:00-10:30 pm, NBC-TV (every fourth week, in the Your Shows of Shows time slot)