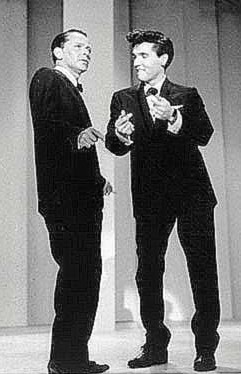 In perhaps the most momentous summit meeting in pop music history, Frank and Elvis sing each other's hits.
---
Other big stars showed up on Frank's Timex Show.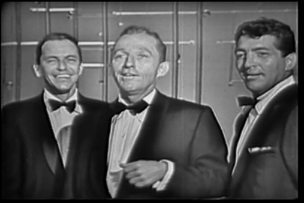 Bing Crosby and Dean Martin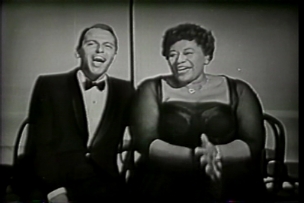 Ella Fitzgerald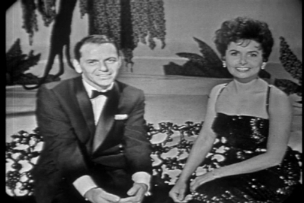 Lena Horne
The TV Sinatra
Duet performances from Sinatra's 1957-1960 TV shows were collected in a 2002 PBS special (featuring commentary by Nancy, Frank Jr., and Tina Sinatra) that's now available on both DVD (left) and CD (right). (These are paid links.) Another PBS special, called Vintage Sinatra, airing in 2003 and featuring the singer's solo performances, has yet to be released.
When Sinatra's 1957-58 series was cancelled, he still had two years to go on his exclusive contract with ABC. He sat out the next season but came back the following year with a more leisurely series of four almost bi-monthly specials, this time sponsored by Timex. Many of the guests - Bing Crosby, Dean Martin, Sammy Davis Jr., Joey Bishop, Ella Fitzgerald, Nancy Sinatra - had appeared on his previous show. And the ever-present Nelson Riddle was back again as musical director. There were a few new and notable guests - Lena Horne, Mitzi Gaynor, Peter Lawford, Hermione Gingold, and Frank's then-girlfriend Juliet Prowse (in two separate appearances). Even Eleanor Roosevelt showed up. But The Frank Sinatra Timex Show will always be remembered as the vehicle for the triumphant return of one of show business's brightest stars - Mr. Elvis Presley himself.
The so-called King of Rock 'n' Roll had just returned from a stint in the Army, and Sinatra agreed to host a televised homecoming party for him. Of course, Frank was no fan of Elvis's brand of music and had had a few choice words to say about it in the past (see sidebar). But whatever the reason - ratings ploy or simply to placate his teenage daughter - Sinatra was feeling gracious enough to invite Presley to join him on his show.
It's too bad the result wasn't more satisfying. Frank and Elvis both shine when performing individually. But when they team up for a duet at show's end, it's a bit of a dud. Someone had come up with the bright idea that they should sing each other's hits, but neither is comfortable in the other's genre.
According to Nancy Sinatra, who appeared on the same bill, both show biz legends were nervous. It's obvious from the very beginning, when Elvis comes out, still dressed in his Army uniform, snapping his fingers on the first and third beat of each bar - a remarkably unhip mannerism, even for a rock 'n' roller unfamiliar with Sinatra's music. (He corrects himself when he returns at the end of the show.)
But whatever the program's musical merits, it was an important event in pop music history, the only public pairing of two different generations' biggest teen idols. The other specials have their highlights - duets with Ella Fitzgerald, Lena Horne, Bing Crosby, and Dean Martin, and Frank soloing on some of his greatest 1950s hits, to name only a few. The Timex shows still hold up today as solid entertainment.

Sinatra vs. Rock 'n' Roll
In an oft-quoted remark to a Paris magazine in 1957, Frank Sinatra declared, "Rock 'n' roll smells phony and false. It is sung, played and written for the most part by cretinous goons and by means of its almost imbecilic reiteration, and sly, lewd, in plain fact, dirty lyrics...it manages to be the martial music of every sideburned delinquent on the face of the earth."
While there's no reason to doubt that the statement reflected Sinatra's true feelings, one wonders if, as a show biz professional, he meant to be so blunt. (Knowing Sinatra, he probably did.)
It was statements like this that forever branded Sinatra an old fart in the eyes of many rock fans. And it didn't help his stock with them when he declared Pat Boone the best of the new generation of singers.
Rock 'n' roll deejay and promoter Alan Freed expressed shock when he heard Sinatra's comments. "He has no business knocking show business," he said. "It's been good to him."
Always the polite southern boy, Elvis Presley was remarkably forgiving. "I admire the man," he said. "He's a great success and a fine actor, but I think he shouldn't have said it. He's mistaken about this. This is a trend, just the same as he faced when he started years ago. I consider it the greatest in music."
According to Sinatra valet George Jacobs, "Mr. S hated Elvis so much that he'd sit in the den all by himself at the music console and listen to every new track over and over, 'Don't Be Cruel,' 'All Shook Up,' 'Teddy Bear.' He was trying to figure out just what this new stuff was, both artistically (though he'd never concede it was art) and culturally (though he'd never concede it was culture). Why was the public digging this stuff? What did it have? What was the hook?"
Sinatra never did figure it out and never came to love the new music. Rock, on the other hand, came to love him - or at least respect him.
U2's Bono understood that "Frank never did like rock 'n' roll. And he's not crazy about guys wearing earrings either, but hey, he doesn't hold it against me and anyway, the feeling's not mutual."
Bruce Springsteen found in Sinatra "a voice filled with bad attitude, life, beauty, excitement, a nasty sense of freedom, (love making) and a sad knowledge of the ways of the world."
Sinatra never apologized for his remarks. But in following the old "My Way" and refusing to compromise, Frank managed, through the sheer quality of his work, to make peace with rock by making rock come to him.