Four Star Revue
Season 1 - 1950-1951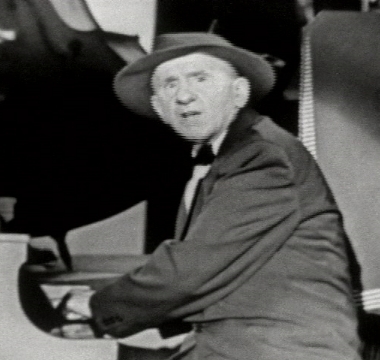 Jimmy Durante finds "the lost chord"
in his premiere telecast on
Four Star Revue
.
Like The Colgate Comedy Hour, Four Star Revue started out with four rotating hosts - Ed Wynn, Jack Carson, Jimmy Durante, and Danny Thomas. But unlike its sister show, Revue managed to maintain much more consistency in hosts throughout most of its first season. It wasn't until after Jimmy Durante had completed his obligation of eight episodes in May that any substitutes were needed, and regular Danny Thomas and non-regular Jackie Gleason stepped in to fill the open slots. (Durante had originally contracted for nine episodes but begged out of the last one, reportedly because the show originated from New York and he was homesick for Hollywood.)
Though TV was still an infant in 1950, Ed Wynn already had a year's experience in the medium, having hosted his own show on CBS the previous season. He brought over most of his usual schtick, including the "perfect fool" persona, the outlandish costumes, wacky inventions, and bedtime setting while the credits rolled. It was a step up for him, or at least an easier job, since he was called upon to do only an hour once a month, instead of half an hour every week. "He was temporarily reprieved from losing his audience through overexposure, which is the danger that haunts every comic on a weekly series," explained Wynn's son Keenan in his book Ed Wynn's Son. "Now the props and gags had to be trotted out only once every four weeks." It worked for while, but the repetitious formula would eventually wear thin.
With his Make Room for Daddy sitcom still a few years away, Danny Thomas was not yet a full-fledged star, but by the start of his Four Star Revue stint, had shown enough potential as a night club entertainer that critics foresaw good things for him. Things were rocky at the start before he reached an accommodation with the new medium. In the early episodes, Thomas would often be paired with comedian Julie Oshins. By the end of March 1951, he was featuring a couple of new regulars who caught on quickly with viewers. Kay Starr was a promising young singer who would hit it big a few years later with the song "Wheel of Fortune." Playing Danny's daughter, lovable tyke Bunny Lewbel allowed the comic to show his softer side (something he'd have a chance to develop more fully on Make Room for Daddy).
The darling of critics, as well as the viewing audience, Jimmy Durante came on like gangbusters on television. "A lovable, energetic, ungrammatical and gloriously rebellious soul who, with a twinkle in his eye, carried on his one-man travesty on culture," wrote Jack Gould of The New York Times. "Never did he let television get in his way; with Durante it was a case of the new medium making the adjustment to his way of life." Durante's malapropisms ("What a catastrostroke!") and catch phrases ("Everybody's tryin' to get into the act!") had endeared him to the millions who had seen him in movies or listened to him on radio. While other TV comics suffered from material that got stale over time, Durante's boundless enthusiasm kept his fresh. From the start, the format was pretty much the same: open with "Start Off Each Day With a Song" (punctuated by frequent pauses for jokes and foolish goings on), plunge into the audience and carry on with a "plant" there, sing a number with his beautiful chorus girls, do a segment in the old Club Durant with singing and strutting partner Eddie Jackson, close with the song "Goodnight, Goodnight, Goodnight" and the farewell, "Good night, Mrs. Calabash, wherever you are."
A success on radio, Durante had been persuaded to move into television by his manager, friend, and ex-vaudeville partner Lou Clayton (who along with Durante and Eddie Jackson had made up Clayton, Jackson, and Durante). It was sound advice, because the move not only won Jimmy critical and popular success, but a Peabody Award in 1950 and an Emmy in 1953. Durante wanted to include Clayton on his show, just as he did Jackson, but Lou passed away on September 12, 1950, less than two months before Jimmy's debut on the new medium.
Jack Carson was a well-respected character actor with a wide range of roles in movies like Mildred Pierce (1945) and A Star Is Born (1954). He starred in a series of films with Dennis Morgan, as well as in his own radio series before moving into television. More comic actor than comedian, Carson assembled a capable ensemble cast to help with the comedy, including actress/singer Lola Albright (his future wife), Betty and Jane Kean, the team of Bob Sweeney and Hal March (Harry Morton on Burns and Allen, host of The $64,000 Question), comic dancers The Honey Brothers, chronic inebriate Jack Norton, and Billy Sands (later of Sgt. Bilko, Car 54, and McHale's Navy). But perhaps Carson's greatest asset was brilliant comedy writer Nat Hiken, who wrote book shows, i.e., comedy bits and songs that were centered around a plot or premise. It wasn't an entirely new idea, but it was successful in differentiating Carson from the other Revue hosts.
In 1950, it wasn't yet possible to broadcast coast-to-coast, so Four Star Revue, like most live shows, originated from New York (with viewers in other time zones watching a delayed kinescope). At the start of the season, Ed Wynn was the only host to use the Center Theatre (formerly a venue for ice shows but recently converted to a TV studio) at Rockefeller Center in Manhattan. The others at first declined to follow suit because of the theater's huge 3700-seat capacity, fearing that the audience wouldn't have a good view of the stage and might not laugh at the appropriate moments. But when NBC installed a television monitor there in January 1951, the problem was solved and Durante, Thomas, and Carson relocated.
TV set manufacturer Motorola opened the season as sole sponsor of the show, but cut back after 13 episodes. In January, they began sharing sponsorship with Pet Evaporated Milk and Norge refrigerators, each paying a third of the cost. Four Star Revue cost $50,000 a week to produce, compared to only $17,500 for its CBS competition, (Arthur) Godfrey and Friends. But according to the Videodex ratings service, Revue reached an average of 2,339,000 homes, while Godfrey's homes totaled 3,519,000. That worked out to a cost of $6.89 per viewer for Revue, compared to $1.46 for Godfrey. With figures like that, it's not hard to see why sponsors balked.
Series
#

Season
#

Airdate

Host & Guests

001

1-01

10/4/1950

Host: Ed Wynn
Guests: Edith Piaf, Ben Wrigley, The Hanneford Family, Monsieur Choppy, Merriel Abbott Dancers, Merle Kendrick and his Orchestra
Note: Edith sings her signature song "La Vie en Rose" in English - seated atop Ed's "pianocycle." The New York Times considered the setting undignified, but Variety felt it "detracted not in the least from Miss Piaf's artistry."

002

1-02

10/11/1950

Host: Danny Thomas
Guests: Marie McDonald, Julie Oshins, Harrison and Fisher, ballet dancer Sheila Bond, football coach Lou Little, Lou Bring and his Orchestra
Note: Danny does some of his nightclub material, including an Italian description of a baseball game and his Toledo song. Jack Gould of The New York Times called the star, "an able monologist when he has the material. He started off well but lost momentum before the sixty minutes were up." According to Variety, "Pre-show anticipation was that Thomas would emerge as one of the top TV 'discoveries' of the year, that the Thomas nightclub comedics were strictly visual and a natural for the video medium. But, unfortunately, it didn't come off that way."

003

1-03

10/18/1950

Host: Ed Wynn
Guests: Beatrice Lilly, Ben Wrigley, Leonard Gautier's Bricklayers, Merriel Abbott Dancers
Note: Jimmy Durante was supposed to host in this spot but was delayed, so Ed filled in for him. Variety called Wynn "a masterful showman...Casual and intimate...broadly whimsical and pointedly witty as his brand of comedy demands, Wynn's solo performance maintained the sock level attained in his initial stint for this show two weeks ago."

004

1-04

10/25/1950

Host: Jack Carson
Guests: Mary McCarty, Evelyn Keyes, Betty Kean, Joe Miller
Notes: The premise of this show is that NBC has run out of money, having spent it all on the other hosts, and Jack will have to make do with a miniscule budget. Gould of The Times called this "sixty minutes of nothingness" and felt that "NBC should have shut down its cameras and saved on its electric light bill. Things would not have been any darker." His opinion of Jack Carson was no higher. "The Hollywood credentials of Mr. Carson identify him as a comedian," the critic wrote, "but after his television performance he may have to appear before an occupational review board." In perhaps his coldest remark, Gould sniped, "The best thing in the show was the announcement that came at the end: 'Next week, Jimmy Durante.'" Variety was a bit kinder, calling Carson "a likable performer...While he is not the clown that Wynn is, nor the natural funnyman that is Durante, he had some topflight material, although a bit of it was heavy-handed."

005

1-05

11/1/1950

Host: Jimmy Durante
Guests: Donald O'Connor, Joyce Holden, Gwen Carter, Eddie Jackson, Jack Roth, Lou Bring and his Orchestra
Note: In his TV hosting debut, Jimmy opens with his usual, "You Gotta Start Off Each Day With a Song," and then plunges into the audience where a man is watching a fake television set. "Nobody looks at The Goldbergs when Durante's on!" he scolds, as he takes away the TV. He also argues with an NBC "executive" and does a Motorola commercial. In the Club Durant sequence, Eddie Jackson struts and sings his signature "Bill Bailey," while Jimmy performs his famous "I'm the Guy Who Found the Lost Chord" routine (from the 1947 movie This Time For Keeps). Jack Gould loved Durante, believing that "with his sandpaper voice, his extended proboscis, his inexhuastible energy and his conspiratorial wit, he made the medium entirely his own last night...For sheer exuberance of the comic spirit it was something not to be missed." The Schnoz, said Variety, "entrenched himself right at the top of the comedy heap, whamming over an hour of entertainment that added up to one of the major delights of the video season." At the time, Jimmy, Donald, and Joyce were appearing together in the film The Milkman.

006

1-06

11/8/1950

Host: Danny Thomas
Guests: Celeste Holm, Larry Fletcher, Julie Oshins, Bobby Scheerer, Dorothy Babbs, Carmina Cansino
Note: This show included a skit in which Danny takes a cross-country bus trip, with Julie Oshins as the driver. "Thomas, with this show," felt Variety, "impresses as having the necessary savvy for the medium. With more expert help surrounding him, the stanza can realize its full potential."

007

1-07

11/15/1950

Host: Ed Wynn
Guests: Gertrude Niesen, Buster Keaton, Eddy Manson, acrobats Dick and Dot Remy, Duke Art Jr.; cameo by Jimmy Durante and Jack Carson
Note: In what Variety called "sock video comedy," Ed and Buster reprise their silent movie spoof from Ed's own show the previous season. Gertrude sings "Temptation."

008

1-08

11/22/1950

Host: Jack Carson
Guests: Betty Kean, The Honey Brothers, Hal March, Bob Sweeney, Jack Gilford, Jack Norton, Jane Dulo, Billy Sands, The Pastels, Dean Elliott and his Orchestra; cameo by Jimmy Durante
Announcer: Andre Baruch
Note: Late for his TV show, Jack gets lost on the subway and ends up in Brooklyn. All along the way, he encounters a steady parade of kookie characters.

009

1-09

11/29/1950

Host: Jimmy Durante
Guests: Helen Traubel, Candy Candido, Shaw and Lee, George Moore, Eddie Jackson, Jack Roth
Note: Variety called this "a prime collection of Durantiana," with the contrast between Wagnerian soprano Helen and the irreverent Jimmy being "one of the major delights of the video season." As Time described it, "From his first baffled exclamation at seeing her in Brünnhilde's armor ('Holy smoke, she's been drafted!'), through a passage from Die Walküre (in which Durante was a voiceless, baffled Siegmund), to his piteous attempts to pin a corsage on her coat of mail, Durante brilliantly played the role of a frustrated longhair." It was the first of many appearances for Traubel on the Durante show. Candy sings "The Pussy Cat Song."

010

1-10

12/6/1950

Host: Danny Thomas
Guests: Bidu Sayao, dancer Danny Daniels, magician Gali-Gali, Julie Oshins, Milton Frome, Lou Bring and his Orchestra; cameo by Jimmy Durante
Announcer: Andre Baruch
Note: Bidu sings "Un Bel Di" from Madame Butterfly. In a sketch, Danny - affecting an Italian accent - tries to recover a penny lost in a subway gum machine. After much red tape, he lands in the office of the treasurer - who turns out to be Jimmy Durante! Gali-Gali's magic act, which involved making chickens disappear by seemingly squashing them, drew ire from viewers, who threatened to report the sleight-of-hander to the SPCA.

011

1-11

12/13/1950

Host: Ed Wynn
Guests: Pearl Bailey, Buster Keaton, Ilona Massey

012

1-12

12/20/1950

Host: Jack Carson
Guests: Betty Kean, Jack Gilford, Hal March, Bob Sweeney, The Honey Brothers, Jack Norton, Jane Dulo, Billy Sands, Butch Cavell

013

1-13

12/27/1950

Host: Jimmy Durante
Guests: Luba Malina, Bil and Cora Baird Marionettes, Eddie Jackson, Jack Roth, Jules Buffano
Note: As reported by Variety, this show featured "Durante fighting with the cameramen, Durante surrounded by kids, Durante in a department store bit, Durante in a love scene with Luba Malina and Durante in his wild nitery bit with partner Eddie Jackson and drummer Jack Roth. All of it was fresh, all completely entertaining."

014

1-14

1/3/1951

Host: Danny Thomas
Guests: Lisa Kirk, Arnold Stang, Julie Oshins, Lawrence Fletcher, Corinne and Tito Valdez

015

1-15

1/10/1951

Host: Ed Wynn
Guests: Eddie Cantor, Georgia Gibbs, Richard Himber, Apache dancers Lucienne and Ashour, acrobats The Ivanoffs, Merle Kendrick and his Orchestra; cameo by Jack Carson
Note: In a French restaurant sketch with Richard Himber and Lucienne and Ashour, Ed uses a series of gimmick props for many laughs. Eddie mentions Ed's guest shot on his Colgate Comedy Hour show and tells him he wants to return the favor - "to get even." He then sings "Carolina in the Morning" perched atop Ed's pianocycle. (When Ed calls for an assistant to help Eddie climb aboard the pianocycle, husky Jack Carson shows up.) Georgia does "It's a Big Wide Wonderful World." For Variety, Eddie's clowning was a highlight of "what otherwise was one of Wynn's less distinguished sessions."
Buy This Episode

016

1-16

1/17/1951

Host: Jack Carson
Guests: Robert Alda, opera singer Mario Berini, Betty and Jane Kean, Sweeney and March, The Honey Brothers, Jack Norton
Note: According to Variety, writer Nat Hiken based part of this episode's script on experiences he had rooming with Mario Berini and announcer Jack Lescoulie ten years earlier.

017

1-17

1/24/1951

Host: Jimmy Durante
Guests: Helen Traubel, Bil and Cora Baird Marionettes, acrobats Harris and Anders, Jack Albertson, Dort Clark, Eddie Jackson, Jack Roth, Jules Buffano
Note: Soprano Helen Traubel pays a return visit to Jimmy's show. "The two of them obviously were having as good a time as the audience," noted Variety, "which helped all the more to make it a gem." Following this show, RCA's prestigious Red Seal classical music label released a record of Jimmy and Helen dueting on "A Real Piano Player" and "The Song's Gotta Come from the Heart." This was Durante's first show to originate from the Center Theatre in New York City.

018

1-18

1/31/1951

Host: Danny Thomas
Guests: Kay Armen, ballerina Nora Kaye, dancer Bill Skipper
Note: Danny does the GI routine from his then-current movie Call Me Mister, his "Assyrian chant," and a spoof of westerns. With this episode, Ezra Stone (the former actor who played Henry Aldrich on radio) replaces Bill Bacher in the director's chair for the Danny Thomas segments.

019

1-19

2/7/1951

Host: Ed Wynn
Guests: Lorraine Rognan, Eric Victor, Anne Jeffreys, Milton Cross, Richard Himber, Will Mahoney

020

1-20

2/14/1951

Host: Jack Carson
Guests: Lola Albright, Jack Norton, Jack LaRue, Jack Gilford, The Honey Brothers, Sweeney and March, Billy Sands, The Pastels

021

1-21

2/21/1951

Host: Jimmy Durante
Guests: Don Ameche, Patricia Wheel, Ben Wrigley, Trini Reyes, Eddie Jackson, Jack Roth, Jules Buffano

022

1-22

2/28/1951

Host: Danny Thomas
Guests: Margaret O'Brien, dancers Peggy Ryan and Ray McDonald, Pansy the Horse, Bunny Lewbel
Note: Danny uses his Italian dialect in an income tax spoof and finishes the show in a nightclub setting. As Variety saw it, "Thomas, who got off to a slow start on Four Star Revue, has been improving with each stanza and turned in his best job to date last Wednesday."

023

1-23

3/7/1951

Host: Ed Wynn
Guests: Fred Allen, Gale Robbins, Richard Himber, Adriana and Charlie

024

1-24

3/14/1951

Host: Jack Carson
Guests: Lola Albright, Jack LaRue, The Honey Brothers, Sweeney and March, Billy Sands, The Pastels

025

1-25

3/21/1951

Host: Jimmy Durante
Guests: Carmen Miranda, Ben Wrigley, Betty Garde, Eddie Jackson, Jack Roth, Jules Buffano
Note: Carmen and Jimmy do a "Miranda and Duranda" act. In a sketch with Betty Garde that takes place in an anthropological museum, Jimmy (with his big nose) is compared to a caveman. The show's closing, in which Jimmy walks through a series of spotlights, was described by Variety as "reminiscent of Chaplin's finales where he wandered down the road into the sunset."

026

1-26

3/28/1951

Host: Danny Thomas
Guests: Kay Starr; dancer Pearl Primus; Julie Oshins; Bunny Lewbel; Paul Sydell and Susie; Jesse, James and Cornell; cameo by Ed Wynn
Note: Variety saw Danny improving as a TV star: "He's finding his niche handily and he's more at home in this medium than he had ever been." Director for this single episode is Tim Whelan, filling in for his brother-in-law Ezra Stone, stuck in Philadelphia with a stage production there.

027

1-27

4/4/1951

Host: Ed Wynn
Guests: Lauritz Melchior, Smith and Dale, Richard Himber, Paul Steffan Dancers, Gene Courtney

028

1-28

4/11/1951

Host: Jack Carson
Guests: Lola Albright, Sweeney and March, The Honey Brothers, Elliott Sullivan, Julie Bennett, The Pastels

029

1-29

4/18/1951

Host: Jimmy Durante
Guests: Sophie Tucker, flamenco dancer Trini Reyes, Ben Wrigley, Betty Garde, Eddie Jackson, Jack Roth, Jules Buffano
Note: Sketches include a teacher reminiscing about Jimmy's school days and Sophie and Jimmy clowning around in a mansion. (Jimmy makes his entrance by sliding down a banister.)

030

1-30

4/25/1951

Host: Danny Thomas
Guests: Kay Starr, Bunny Lewbel, acrobatic dancers Les Zoris, jugglers The Piero Brothers, The Hoosier Hotshots
Note: This show was set at a carnival. "Despite the fact that the mechanics of the production outclassed the material," wrote Variety, "Thomas was able to create an hour of warmth and virtuosity." Regular Julie Oshins was to have appeared but cancelled due to a role in the touring company of Guys and Dolls.

031

1-31

5/2/1951

Host: Ed Wynn
Guests: Constance Moore, Dean Murphy, Hermione Gingold

032

1-32

5/9/1951

Host: Jack Carson
Guests: Milton Berle, Lola Albright, Betty Garde, Jimmy Little, The Honey Brothers, Sweeney and March, Jack Norton, Stanton and Luster
Note: This episode is entitled "Lost in a Harem," borrowed from the Abbott and Costello picture of the same name, and has Jack chasing a female jewel thief to Baghdad. Milton Berle appears as "a man who owns the oldest jokes."

033

1-33

5/16/1951

Host: Jimmy Durante
Guests: Fred Allen, Eddie Cantor, Eddie Jackson, Jack Roth, Jules Buffano, Al Norman, Milton Frome, Belle Flower, Abe Vigoda, Roy Bargy and his Orchestra
Announcer: Andre Baruch
Note: Eddie does his impression of Jimmy, and Jimmy responds by singing Eddie's "If You Knew Susie." Eddie appears as Maxi the Taxi in a Motorola commercial. Relating an unexpected moment that could only happen on live TV, Variety reported, "At one point, when Durante was loading a musket, he bobbled a line and ad libbed, 'the hell with it,' but his fast recovery with a puckish, contrite expression brought a yock from the audience."

034

1-34

5/23/1951

Host: Danny Thomas
Guests: Sara Seegar, Kay Starr, Bunny Lewbel, Rufe Davis, The Mayo Brothers
Note: Making reference in this episode to "the now defunct Conklin fountain pen," Danny earned himself a rebuke from the pen's manufacturer. He got into even bigger trouble in his next show. Sara Seegar was the wife of director Ezra Stone.

035

1-35

5/30/1951

Host: Ed Wynn
Guests: Jack Carter, Theresa Brewer, Romo Vincent, Jack Gilford, Abe Vigoda, Paul Steffan Dancers, acrobats The Five Marchinos

036

1-36

6/6/1951

Host: Jack Carson
Guests: Lola Albright, Sweeney and March, The Honey Brothers, Jack Norton, Ruth McDevitt, Michael Fruchtman, The Five Pastels

037

1-37

6/13/1951

Host: Danny Thomas
Guests: Kay Starr; Bunny Lewbel; Anthony, Allyn, and Hodges
Note: Danny does his "wailing Syrian" bit and Italian fruit vendor character. After raising the ire of the Conklin Company in his previous appearance, the host followed up in this episode with the crack, "I didn't say the Conklin Pen Co. was defunct. I said the Conklin pen was defunct." The company hit Thomas, NBC, and sponsor Pet Milk with a $500,000 damage suit.

038

1-38

6/20/1951

Host: Ed Wynn
Guests: Pearl Bailey, Laraine Day, Joseph Buloff, Landre and Verna, Mazzone Abbott Dancers, Baudy's Greyhounds
Note: For Ed's final show of the season, Variety felt, "Wynn's work, although in his usual inventive and ingenious vein, didn't always hit with the expected impact. There were times when his gags were too subtle to be conveyed into the living room, but generally his efforts were good."

039

1-39

6/27/1951

Host: Danny Thomas
Guests: Kay Starr, Bunny Lewbel, The De Mattiazzis, The Four Skating Macks

040

1-40

7/4/1951

Host: Jack Carson
Guests: Lola Albright, The Honey Brothers, Sweeney and March

041

1-41

7/11/1951

Host: Danny Thomas
Guests: Paulette Goddard, Kay Starr, Bunny Lewbel, The Clark Brothers, Trini and Manola, Lou Bring and his Orchestra
Note: Olsen and Johnson were slated to make their debut on the show here, replacing Jimmy Durante, but that plan fell though and they had to wait until the fall.

042

1-42

7/18/1951

Host: Jackie Gleason
Guests: Denise Darcel, Phil Regan

Replaced for the summer by the cultural series Heritage