All Star Revue
Season 3 - 1952-1953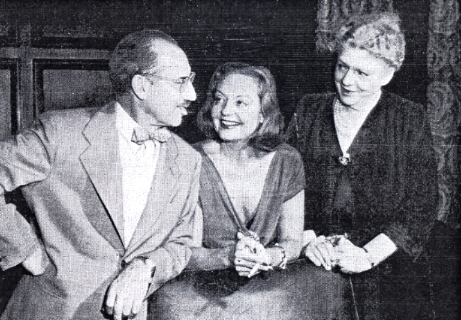 Tallulah Bankhead confers with guests
Groucho Marx and Ethel Barrymore
prior to her premiere telecast.
When Revue premiered in 1950, critics familiar with Danny Thomas from his nightclub successes foresaw a lot of potential for him on television. But after two seasons, that potential went largely unfulfilled. "Alas, Four Star Revue was just not right for me," the entertainer wrote in his autobiography. "It was a mishmash of singers, dancers, jugglers, and sketches. I introduced the acts and worked with the fine comedian Julie Oshins, in the sketches, which I enjoyed. But as far as using my own material was concerned, it just wasn't good. In their segments of Four Star Revue, Ed Wynn and Jimmy Durante could use quick little bits of comedy - which was their style. My style was slow-development storytelling, for which there just wasn't time. I had to get on and off and introduce the jugglers."
With NBC bringing in more hosts for the 1952-53 season, Thomas decided it was time to quit. "When I realized I'd only be on the show two or three times a year, I opted out and went back full-time to the saloons, as I called the nightclubs...The saloons were my safe haven." (A year later, he was coaxed back to TV for the sitcom Make Room for Daddy, which finally tranformed him into a true star.)
Meanwhile, Ed Wynn was having trouble staying afloat. "Just as it drained his successors like Gleason and Caesar, so television killed Dad as a clown," related Keenan Wynn. "His audience began to dwindle, but he was tied hand and foot to his format, doomed like a dinosaur because he couldn't think of changing it...Dad's option was dropped by NBC, and at sixty-seven he was out of a job." (Wynn's career would be revitalized a few years later when he reemerged as a dramatic actor in the Playhouse 90 presentation of Requiem For a Heavyweight.)
With the further loss of Jack Carson (to Broadway) and the unsuccessful Olsen and Johnson, that left Revue with only Jimmy Durante and Martha Raye. To fill the open slots, NBC talked to a number of show biz veterans, including Maurice Chevalier and Harold Lloyd, before settling on George Jessel and Tallulah Bankhead. At the time there was a feeling in the industry that the vaudeville hokum that had sustained television in its early days was on the way out and that something new was needed. Both Jessel and Bankhead were considered to have the requisite wit and sophistication, but the viewing audience didn't agree - at least not in large enough numbers. A talk show might have been better suited to the new hosts' talents, but All Star Revue was not that.
Bankhead's show was patterned after her recently-defunct radio series The Big Show, even to the extent of bringing over that program's producer-director Dee Englebach, writers Mort Green and George Foster, and musical director Meredith Willson. The latter doubled as Bankhead's straight man, whose catch phrase - always good for a laugh - was "Thank you, Miss Bankhead, sir" (perhaps a veiled reference to her sexual orientation). (Willson went on to write the fabulously popular The Music Man.) Early in her career, Bankhead (known as "Tallu" to her friends) had some success as a stage actress but was less of a hit in the movies. Known for her wit, strong opinions, and uninhibited nature, she was one of the more notorious celebrities of her era. In the early 1950s, to everyone's surprise, Bankhead added comedienne to her resume. With good writing, her radio and TV work was instrumental in establishing the exaggerated witty-bitchy-catty persona for which she was known the rest of her career (and which was copied by many a drag queen).
George Jessel, a contemporary of Al Jolson and Eddie Cantor, was known as the "Toastmaster General of the United States," for his talent as a master of ceremonies. A comedian, as well as an actor, singer, and producer, he had done it all in just about every medium. While his roots were in vaudeville, his humor was far from the slapstick variety. "Mr. Jessel essentially is more the wit than the performer, per se," noted Jack Gould of The New York Times. "Possessed of one of the most active and brilliant minds in the show business, Mr. Jessel enlivens his humor with a point of view and depth that set it apart from the norm." Unlike many Jewish entertainers of the time, Jessel didn't try to hide his ethnicity. In fact, he embraced it, incorporating many Yiddishisms into his comedy. Jessel worked out a reciprocal deal with Bob Hope and Eddie Cantor, whereby they would guest star on his All Star Revue shows, and he would appear on their Colgate Comedy Hours.
The third season also saw some fine tuning for one of the show's established hosts. Now director as well as head writer on Martha Raye's segments, Nat Hiken was in a position to exercise more control over the show's direction. One of his first moves was to hire Rocky Graziano to play Martha's boyfriend. A master of comic invention, Hiken knew how to compensate for the ex-boxer's inexperience as an actor, casting him in the role of straight man to counter Raye's irrepressible mugging. It was a remarkable pairing that was such a hit that Graziano became a regular on the show.
Other hosts that season were Dennis Day, Rosalind Russell, the Ritz Brothers, Walter O'Keefe, Perry Como, and Ben Blue. There was also a special ice skating show starring Sonja Henie with guest Harpo Marx. (Harpo was signed by NBC to make guest appearances, many of them surprise cameos, on its various programs.)
Revue began its third season in Hollywood but moved to NBC's new Burbank studios in early October. Martha Raye (and probably Jessel and Bankhead) originated her show from New York.
Due to sponsor skittishness, there almost wasn't a third season. When Snow Crop pulled out at the end of the previous year, NBC considered cancelling the show. But Kellogg's and Pet Milk remained, and eventually, the network managed to lure Del Monte to sign on as well. Nonetheless, sponsorship was still unstable. Both Kellogg's and Del Monte dropped out at the end of 1952, leaving only Pet. Beacon Wax came on board briefly for the first show in January before being quickly replaced by Johnson & Johnson (makers of Band-Aid plastic strips). With only two sponsors remaining (Pet and J&J), NBC was forced to pick up the tab for one-third of the expenses - which didn't bode well for the show's future.
Even with no increase in budget (it remained at $60,000 an episode), All Star Revue was still one of the most expensive programs on on the air, and the ratings were under par. Averaged out across the entire season, Revue managed to beat its competition, newcomer The Jackie Gleason Show on CBS. But over the course of the year, Gleason had gradually gained in popularity and ended up turning the tables. At that point, with sponsors proving hard to come by, NBC's executives decided to cancel All Star Revue, even ending the season early to cut its losses.
When NBC dickered about re-signing him, George Jessel negotiated a deal with ABC for his own show the following season. Tallulah Bankhead never again hosted a TV series but continued to appear frequently on the medium as a guest star. Jimmy Durante would move over to The Colgate Comedy Hour the following season, and Martha Raye was expected to follow suit. But proving that things don't always turn out as anticipated, NBC soon found reason to reconsider All Star Revue's cancellation. The final chapter of the show's history hadn't yet been written.
Series
#

Season
#

Airdate

Host & Guests

085

3-01

9/6/1952

Host: Dennis Day
Guests: Corrine Calvet, Paul Douglas, Irene Ryan, The Billy Daniel Dancers (Billy Daniel, Lynn Bernay, Nancy Kilgas, Julie Landon, Ruthanne Welsh), The Romanos, Hal March, Jimmy Cross, Chester Clute, Harry Zimmerman and his Orchestra; cameos by Harpo Marx and George Jessel
Note: In his first stint as a TV revue host, Dennis spoofs Johnnie Ray, a Nazi submarine commander, a French chef, a gigolo, a bratty kid, and a stand-up comedian. Closing the show is a Yiddish bit with Dennis and George. This show originated from the El Capitan Theatre in Hollywood.

086

3-02

9/13/1952

Host: George Jessel
Guests: Tony Martin, Dorothy Kirsten, Carmen Cavallero, Joe DiMaggio, dancers Peggy Ryan and Ray McDonald, The Skylarks; cameo by Jimmy Durante
Note: Proclaiming, "Old bits never die - they merely relive for television," Georgie, in his debut as TV host, is right at home using a toastmaster format to perform his emcee duties. His offerings include some singing, some comedy, a duet with Dorothy, his "mama on the telephone" and "Professor Ganzermacher" routines, and impersonations of Al Jolson and Eddie Cantor. Jimmy Durante shows up to welcome Georgie to the show, and Joe DiMaggio presents him with a lifetime baseball pass.

087

3-03

9/20/1952

Host: Jimmy Durante
Guests: Margaret Truman, Phil Harris, Eddie Jackson, Jack Roth, Jules Buffano
Note: Jimmy starts off his season by bringing back the President's daughter, who Variety noted, "has developed into an extremely able performer...She's charming enough even for GOP viewers." And bandleader and comic foil Phil Harris "has a dominant personality, an item which caused Durante to ask, 'Who's show is this?'"

088

3-04

9/27/1952

Host: Martha Raye
Guests: Risë Stevens, Cesar Romero, Rocky Graziano

089

3-05

10/4/1952

Host: Rosalind Russell
Guests: Milton Berle, Phil Harris, George Jessel, Harpo Marx, Dinah Shore, Jimmy Durante, Red Skelton (on film), dancers Nelle Fisher and Jerry Ross
Note: The all-star cast was on hand to celebrate the opening of NBC's new Burbank studios in southern California. Variety deemed the affair disappointing. "It was a question of teaming too many names without the right elements of programming or production to project them."

090

3-06

10/11/1952

Host: Tallulah Bankhead
Guests: Ethel Barrymore, Groucho Marx, Ben Grauer, Meredith Willson and his Orchestra
Note: Sketches include a spoof of the popular radio and TV show Author Meets the Critics called Writer Versus Critic, with Meredith as the emcee, Groucho as the critic, Tallu as the writer (of her recently published autobiography), and Ethel taking Tallu's side. Another bit has Tallu on her first New York subway ride, complaining that there's no sleeper, drawing room, or dining room. (For a particularly clever touch, she sees a picture of her nemesis Bette Davis posted there.) In what was supposedly his "live" television debut (his previous appearances had all been on film), Groucho sings "Go West," from his movie of the same name. If Bankhead was worried about how she'd come off on television, she needn't have worried. "Tallu is terrific!" declared Jack Gould of The New York Times. He went on to add, "Tallu is eminently videogenic. Her expressive face, the nervous toss of her hair and her appreciation of the subtle and meaningful gesture are made to order for the home screen. Add to these the sex-shaped tones of her distinctive voice, the intelligence of her wit and her unflagging zest for life. The sum of the parts is a real and vivid person - as unique on TV as off." Variety was more muted in its praise, and complained that the pacing was too slow. Newsweek felt, "Except when Groucho managed a couple of ad libs and Miss Barrymore raised her regal eyebrows, everybody on the show looked just plain bored." In a tradition established on The Big Show, the cast sings Meredith Willson's "May the Good Lord Bless and Keep You" to close the show.

091

3-07

10/18/1952

Host: Jimmy Durante
Guests: Frank Sinatra, Fifi D'Orsay, Candy Candido, Eddie Jackson, Jack Roth, Jules Buffano, Roy Bargy and his Orchestra; cameo by gossip columnist Sheilah Graham
Note: Sketches include Jimmy going to Washington, Jimmy and Frank in a barber shop, and Fifi trying to distract Jimmy from his music. This show "scored solidly," according to Variety.

092

3-08

10/25/1952

Host: George Jessel
Guests: Phil Harris, Kay Starr, Laraine Day, Leo Durocher, swimmer Florence Chadwick
Note: Georgie reprises his "Professor Ganzermacher" bit and does a drunk act. Kay sings "Worry, Worry, Worry" and "Three Letters," while Leo and Laraine (married in real life) portray an embattled couple. Variety considered it "a good workable show in its entirety despite the lack of any imaginative material."

093

3-09

11/1/1952

Host: Martha Raye
Guest: Ezio Pinza, Sara Seegar, The Kirby Stone Quartet, The Herb Ross Dancers, George Bassman and his Orchestra; cameo by Milton Berle
Note: Ezio has amnesia and Martha tries to help him regain his memory. Martha opens the show singing "Just One of Those Things," and joins Ezio for "St. Louis Blues." Kirby Stone's group was ordinarily a quintet, but one of its members was ill.

094

3-10

11/8/1952

Host: Tallulah Bankhead
Guest: David Niven, Vaughn Monroe, Paul Hartman, Patsy Kelly, Phil Foster, dancer Ron Fletcher, Meredith Willson and his Orchestra; cameo by George Jessel
Note: Variety thought the funniest part of this show was a satire of Gone With the Wind called Real Gone avec le Breeze. "Unlike the first show," the review explained, "which was suited more for radio than for video this session had everything plotted along lines designed for maximum impact. Tallu put on a show that could as easily appeal to mass as well as class audiences." David Niven and Paul Hartman were also credited with enlivening the proceedings. Patsy and Phil play a bickering couple, and Vaughn Monroe sings "Yours."

095

3-11

11/15/1952

Host: Jimmy Durante
Guests: Lily Pons, Candy Candido, Eddie Jackson, Jack Roth, Jules Buffano, Roy Bargy and his Orchestra
Note: At the Club Durant Opera Company, Jimmy plays a fawn, while Lily is a wood nymph. They team up for "Obbligato Song," the Kurt Weill-Ira Gershwin song "Jenny," and "You and Your Beautiful Eyes." On her own, Lily sings "Caro Nome" from Verdi's Rigoletto. Jimmy does the Del Monte catsup commercial.

096

3-12

11/22/1952

Hosts: The Ritz Brothers
Guests: Mimi Benzell, John Ireland, dancer Bill Skipper, Lou Bring and his Orchestra
Note: In their second well-received All Star Revue, the three brothers offer up bedtime story spoofs of the Mayflower (for Thanksgiving), Snow White and the Seven Dwarfs, and Ivanhoe. "All in all, a very funny show," said Variety.

097

3-13

11/29/1952

Host: George Jessel
Guests: Denise Darcel, Ben Blue, Rocky Marciano, dancers Nelle Fisher and Jerry Ross, Esther Klegerman, Jack Norworth, Irish tenor Barry O'Hara
Note: Variety felt let down by the guest cast, singling out Denise Darcel and Rocky Marciano as particular disappointments. But it thought Ben Blue, in an art museum pantomime, was "the top laugh effort on this display." Esther Klegerman, winner of the Chicago Harvest Moon Ball, sings "Shine On Harvest Moon."

098

3-14

12/6/1952

Host: Martha Raye
Guests: Dorothy Lamour, Sara Seegar, George Bassman and his Orchestra
Note: Martha finds it difficult to compete with beautiful Dorothy Lamour for the men aboard a Caribbean cruise ship. Variety called Martha "the most consistent winner this season on NBC-TV's All Star Revue," noting how she "whammed across another solid hour of clowning, buffoonery, song and dance" and "demonstrated the socko payoff of her versatile talents."

099

3-15

12/13/1952

Host: Jimmy Durante
Guests: Sophie Tucker, Korla Pandit; cameo by Danny Thomas
Note: Jimmy and Sophie "cavorted together in a heartwarming and entertaining manner," according to Variety. "The two represent an era and a style of show biz comprising equal proportions of heart and talent." In the Club Durant sequence, they pull out all the stops, proving that in the right hands, vaudeville never goes out of style. Danny Thomas makes a brief appearance to congratulate Jimmy on winning B'nai B'rith's Humanitarian Award.

100

3-16

12/20/1952

Host: Tallulah Bankhead
Guests: Jack Carson, Louis Armstrong, Patsy Kelly, Phil Foster, Bil and Cora Baird's Marionettes, The Ron Fletcher Dancers, Meredith Willson and his Orchestra
Note: For this Christmas show, Tallu recites "Touch Hands," a poem about brotherly love by William Harrison Murray. Sketches include a spoof of Antony and Cleopatra, Tallu making a visit to Macy's, a discussion of gossip columns, and Patsy and Phil's bickering couple (reprised from Tallu's previous outing). Louis sings and plays a new song by Meredith Willson called "Who Needs What Moonlight?"

101

3-17

12/27/1952

Host: Walter O'Keefe
Guests: Frankie Laine, Buster Keaton, Eleanor Keaton, Margaret Whiting, Dorothy Shay, Johnny Carson
Note: Walter fills in for an ailing George Jessel. Employing the usual toastmaster format, he gives, according to Variety, "an excellent account of himself." Sketches center around football spies, insurance policies, and a bit in which Buster and his wife Eleanor demonstrate how to put an enebriated spouse to bed. Variety referred to future Tonight Show host Johnny Carson as "a likeable newcomer, who was the central character in a sketch in which an operation is televised. Although an old idea, Carson made it pay off laughwise."

102

3-18

1/3/1953

Host: Jimmy Durante
Guests: Linda Darnell, Vic Damone

103

3-19

1/10/1953

Host: Tallulah Bankhead
Guests: Milton Berle, Dennis King, Billy Daniels, Benny Payne, Patsy Kelly, Phil Foster, The Ron Fletcher Dancers, Meredith Willson and his Orchestra
Note: Tallu performs a dramatic scene as World War I nurse Edith Cavell. Other highlights include a British drawing room sketch with Tallu, Uncle Miltie, and Dennis; Tallu in a Broadway automat; Billy Daniels singing "Yiddishe Momma" accompanied by Benny Payne on piano; and Patsy and Phil as the bickering couple.

104

3-20

1/17/1953

Host: Martha Raye
Guests: Peter Lorre, Boris Karloff, Charyl Sue Fong
Note: In a change of pace, the show does a story about Martha's adoption of a little Chinese girl. To provide a better environment for the youngster, she takes a job in a tea room run by the sardonic Lorre and Karloff. The theme is milked for all the sentimentality it's worth, and at one point, when the girl's relatives come to take her back, Martha gets so emotional she has to leave the stage.

105

3-21

1/24/1953

Host: George Jessel
Guests: Sophie Tucker, Dorothy Kirsten, Nat King Cole, composer Shelton Brooks, Ben Wrigley; filmed introduction by H. V. Kaltenborn.
Note: Georgie returns, following surgery, and resumes his place as toastmaster in the banquet setting. He does a "Professor Ganzermacher" bit, as well as impressions of Eddie Foy, Raymond Hitchcock, Sam Bernard, and George M. Cohan. Sophie belts out "Nobody Loves a Fat Girl" and a medley of her oldies. Dorothy does "Un bel dì vedremo" from Madame Butterfly and "Libiamo ne' lieti calici" (The Drinking Song) from La Traviata. Nat sings "Mona Lisa," "That's My Girl," and "Pretend," while Shelton Brooks plays his "At the Darktown Strutter's Ball" on the piano.

106

3-22

1/31/1953

Host: Jimmy Durante
Guests: Ezio Pinza, Fifi D'Orsay, Ben Wrigley, Candy Candido, Eddie Jackson, Jules Buffano, Jack Roth
Note: In an early example of product placement, Jimmy opens the show with his arm in a sling and Band-Aids on his head. (Johnson & Johnson, maker of Band-Aids, was a sponsor.) He also does a commercial where he immerses both a Band-Aid and his cigar in water. (Guess which one disintegrates?) Jimmy jokes that he discovered Ezio - when his name was "Lauritz Melchior." At the Club Durant, Ezio sings "I Want to Be Eddie Jackson" and does a bit of cakewalking.

107

3-23

2/7/1953

Host: Tallulah Bankhead
Guests: Bert Lahr, Renzo Cesana (The Continental), Patsy Kelly, Phil Foster, Dolores Martin, Bob Carroll, The Ron Fletcher Dancers, Meredith Willson and his Orchestra
Note: Tallu reads O. O. McIntyre's column about the death of his dog. (She had recited it before on radio, but Variety felt is was less effective on TV.) Bert does a satire on artists, and the debonair Continental appears as a traffic cop. Singer Dolores Martin performs "I'm Through With Love" and "Necessity," while Bob Carroll sings "Rachel."

108

3-24

2/14/1953

Host: Perry Como
Guests: Ben Blue, Joan Blondell, Patti Page, Hoctor and Byrd, Stanley Prager, Siri, Snag Werris, Fred Irving Lewis, Joey Walsh, Anita West, Belle Flower, The Ray Charles Choir, Mitchell Ayres and his Orchestra
Announcer: Don Pardo
Note: Perry sings "Don't Let the Stars Get In Your Eyes," "Wild Horses," "You'll Never Walk Alone," and "When Day Is Done." Patti performs her hit "The Doggie in the Window" and joins Perry on "Side By Side." Joan teams up with Perry and Ben for a humorous dance number. For this substitute stint, Perry borrowed Tallulah Bankhead's writers Mort Green and George Foster and Jimmy Durante's producer-director Joseph Santley. Variety called the show "heavy on song and weak on comedy." Martha Raye was to have been this week's host, with Frank Sinatra as her guest star, but when Sinatra cancelled claiming fatigue, Martha postponed her show by a week.

109

3-25

2/21/1953

Host: Martha Raye
Guests: Ezio Pinza, Rocky Graziano, violinist Emery Deutsch, The Herb Ross Dancers
Note: The hour's entertainment is centered around a simple premise: Rocky, as Martha's boyfriend, isn't happy when Ezio shows up claiming to have married Martha when the two knew each other years ago in Vienna. In a cute bit, Martha and Rocky watch a film on TV of real-life Rocky's 1948 middleweight title bout with Tony Zale. (Rocky lost.) Martha sings "Blues in the Night."

110

3-26

2/28/1953

Host: George Jessel
Guests: Bob Hope, Fred Allen, Toots Shor, Sara Berner, opera singer Hilda Gueden, Al Goodman and his Orchestra
Note: New York Times critic Jack Gould called the pairing of Jessel and Allen "an hour of amiable diversion that had the distinction of an underlying intelligence not found too often in variety programming." He singled out Allen, who, he said, "for almost the first time on TV seemed at ease and was the funniest he'd been in a very long time." Variety asserted that it proved conclusively that "there's a TV for Allen when the producers and writers do right by him." This show originated from New York, with a simulated Toots Shor's Restaurant as the backdrop. All three principals - Jessel, Hope, and Allen - had participated in a Friar's Club banquet on NBC-TV the night before. The next night, March 1, Bob Hope hosted The Colgate Comedy Hour, with Jessel as his guest.

111

3-27

3/7/1953

Host: Jimmy Durante
Guests: Carmen Miranda, Cesar Romero, Eddie Jackson
Note: The cast does a spoof of cowboy movies, as presented on South American television.

112

3-28

3/14/1953

Host: Tallulah Bankhead
Guests: Fred MacMurray, Wally Cox, Cab Calloway, Patsy Kelly, Phil Foster, The Ron Fletcher Dancers, Meredith Willson and his Orchestra
Note: Tallu, Fred, and Wally do a sketch about daredevil bicycle test pilots. Cab was currently appearing on Broadway in Porgy and Bess and sings "There's a Boat That's Leaving Soon For New York" from that show.

113

3-29

3/21/1953

"All Star Ice Revue"
Host: Sonja Henie
Guests: Harpo Marx, speed and trick skater Buddy La Londe, adagio team Narena and Norris, comedy team Hamm and Riggs, "The Flying Saucer" Don Watson, speed skater and baton twirler Marshall Chapple
Note: Sonja does a hula-hula to "Song of the Islands." Comedians Willie West and McGinty were a regular part of Henie's troupe but were replaced by the better-known Harpo Marx for this TV performance. The show originated from the Shrine Auditorium in Los Angeles.

114

3-30

3/28/1953

Host: Ben Blue
Guests: Mickey Rooney, Dorothy Lamour, Connie Haines
Note: Martha Raye was originally slated to host on this date, with Paulette Goddard as her guest. But Goddard didn't like the script and begged off, while Raye fell ill. Instead, Blue and Lamour were hastily inserted. Ben and Dorothy do a sketch in which she complains about his behavior at a party, and Ben gets a chance to do some pantomime. Mickey offers impressions of various film stars.

115

3-31

4/4/1953

Host: George Jessel
Guests: Eddie Cantor, Fred Allen, Gloria DeHaven, Portland Hoffa, Kenny Delmar
Note: During the banquet portion of the show, in honor of Georgie's 55th birthday (April 3), Eddie reviews the highlights of the host's career, but manages to turn the focus around to his own accomplishments. Fred brings along a couple of regulars from his old radio show, wife Portland Hoffa and Kenny Delmar (in character as Senator Claghorn). Gloria sings "The Old Soft Shoe" and "Ain't Got No Man." By this time, Jessel had already signed to do a show for ABC starting in the fall, but he graciously thanked NBC for "having put me closer in one season with the American audience than in all my 40 years in show business."

116

3-32

4/11/1953

Host: Jimmy Durante
Guests: Helen Traubel, Rose Marie, Gene Fowler, Ben Wrigley, Eddie Jackson, Jules Buffano, Jack Roth, Jackie Barnett, Alan Henderson, Marilyn Borden, Rosalyn Borden, Wanda Smith's Cover Girls, Roy Bargy and his Orchestra
Announcer: Hal Sawyer
Note: The cast pays tribute to Jimmy's illustrious career, with both Helen and Rose doing their best Durante impressions. For her part, Helen, the dignified opera star, "heaved parts of the piano, scattered the music and strutted in a manner that would have done credit to Eddie Jackson." Author Gene Fowler was on hand to plug his biography of "The Schnoz."

117

3-33

4/18/1953

Host: George Jessel
Guest: Tallulah Bankhead, Jimmy Durante, Ben Blue, Connie Russell, dancer Betty Bruce, Eddie Jackson, Wanda Smith's Cover Girls
Note: This, the final episode of All Star Revue as a weekly series, features a parade of old favorites: Georgie as Professor Ganzermacher, Ben in a Chaplinesque pantomime, Tallu doing her New York subway sketch, and Jimmy and Eddie providing their usual vaudeville hijinks. Also included is Connie Russell singing "I'm Gonna Live Till I Die." This show originated from the Center Theatre in New York (demolished in 1954 and replaced by a skyscraper) and scored a 21.8 Trendex rating against its competitor The Jackie Gleason Show's 25.1.
Replaced for the summer by My Hero and Original Amateur Hour with Ted Mack